Car Steering & Suspension Repair Specialists in Melbourne
Steering You Away from Danger
Even the smallest of problems with the steering in your car can drastically affect the driving experience. Your safety is directly linked to your ability to steer your vehicle the way you want to and is the most dangerous aspect of a steering malfunction. It also decreases your driving comfort and can quickly wear out your tyres and tyre bearings. When you feel abnormal vibrations from your steering wheel, or when you notice your car being dragged to a particular side while driving, you should go to a good car steering specialist immediately.
Time is of utmost importance here because damage to one particular component of the steering system quickly wears out all the interlinked components. So, time is money, as the longer you wait,you will have to pay more to repair your steering. You need a professional power steering repairs service centre like Speedway Automotives to accurately diagnose the problem and correct them.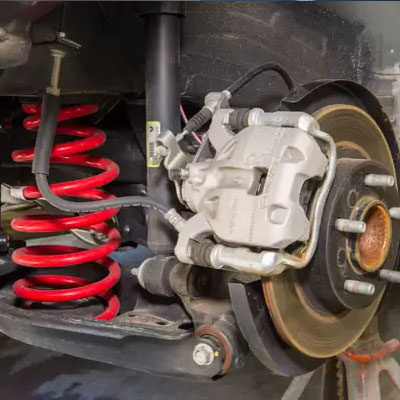 Suspension Repairs
You might choose to believe that your current go-to auto suspension shop is making sure that your suspension repairs are on point. But are they? You should change your car suspension repair shop and go to a good suspension repair specialist like Speedway Automotives if you keep noticing poor handling and comfort while driving. Apart from these obvious details, a poor and inadequate suspension can affect various other aspects such as:
Car Braking: A bad suspension will bottleneck your braking performance. Your suspension must not be worn out or damaged to ensure consistent handling and braking.
Tyre Wear and Tyre Contact: An inadequate suspension will wear out your tears prematurely as they are responsible for maximising the friction between tyres and the road.
Maintain wheel alignment: A poor suspension disrupts the dynamic wheel alignment of your car over time.
Vehicle movement: A good suspension will help control vehicle bounce, sway, roll, dive, and acceleration squat.
Drive Cars in Its Top Condition by Power Steering Service
If you're looking for power steering pump repair, power steering hose repair, or even power steering line repair, Speedway Automotives is here for you. Our Power steering repairs are state of the art, so visit us for all your steering repair and servicing needs.
We are also proficient in suspension repairs for cars in Melbourne. We are the only auto suspension shop you will ever need. Call us right now on (03) 9706 7227 and book an appointment.
OUR SERVICES
Log Book Services and Repairs
Maintenance to All Makes and Models
Services and Repairs to European Vehicles
Auto Transmission Service and
Clutch Replacements
Steering, Suspension and Brakes Repairs
Engine Diagnostics and Tune-ups
Batteries, Radiators and Tyres
Mufflers and Exhausts
OUR BRANDS
Speedway Automotives is housed under one roof with Mr Muffler Dandenong; a valuable service provider in the automotive maintenance sector using quality automotive components and spare parts

Speedway Automotives & Mr Muffler Dandenong have been in the automotive service industry for over 30 years; with that comes experience, trust and building relationships. Trust is very important for customers and vehicle owners. Who would you trust with the safety and well being of your car? Our highly trained motor mechanics have the knowledge and can meet all your vehicle requirements and provide you with peace of mind.